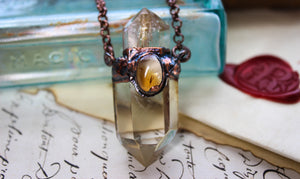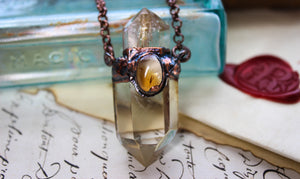 Crystal Jewelry Inspired by Fantasy and Ancient Lore
New collections every month
Enter a Realm of Enchantment
🗡Step into a realm where magic intertwines with the tapestry of everyday life. My jewelry pieces serve as enchanted portals, inviting you to embark on a journey where fantasy and reality converge. Let Realm and Reason be your guide as you unlock the dormant magic within, embracing the extraordinary in the most ordinary moments.🗡
One-of-a-Kind
Each piece is as unique as the wearer. Almost all pieces are completely one of a kind due to design, stone selection, color, and the unique metal forming process.
Even if the design is replicated, small differences will be present.
Inspired Design
Jewels and Talismans are crafted monthly around a theme from ancient lore or mythical fantasy. Pieces are made to look like they could be found in a Medieval Fantasy World where you will find castles, faeries, and magic.
Artisan Crafted
Each piece is conjured up in my little studio in Lancaster, Pennsylvania. I've been perfecting my craft since 2017 and only use quality gemstones and materials.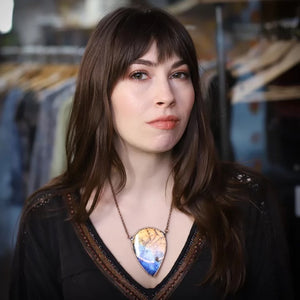 Meet your Jewel Crafter
Hail fellow! I am Emily, the visionary Jewel Crafter weaving enchantment within the realms of Realm and Reason. As a lover of gemstones and a fervent believer in all things fantastical and magical, I have crafted this brand as a vibrant fusion of my passions. When I'm not immersed in my studio, crafting meticulously intentional talismans, you'll find me adventuring through mystical forests alongside my loyal hound, embarking on virtual quests in fantastical realms, or journeying through the pages of captivating fantasy books. Together, let us venture into a world where dreams intertwine with reality and magic knows no bounds. Welcome to the captivating realm of Realm and Reason